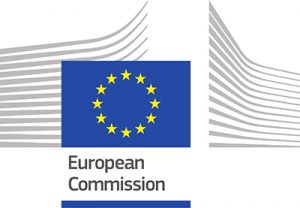 The Roto-Hybrid team have recently completed the first project review with the European Commission of our 24 month, €3m EC grant to bring to market the state-of-the-art Roto-Hybrid Process.
The process combines two novel pre-press gravure printing cylinder process technologies; namely the Hybrid Cylinder technology to enable an upscaled size variable printing cylinder production facility and a Diamond-Like Carbon coating process to replace chrome plating and other electrolytic processes like copper or nickel plating.
The project review ended with a visit by the European Commission to Roto-Hybrid HCR coating plant in Germany and included both a detailed tour of the plant and a demonstration of how the process works in addition to a project review meeting with the team.
Trials Underway
Year 1 of the EC project was primarily focused on manufacturing development and fine tuning in order to facilitate both larger cylinders for the Hybrid Cylinder technology and also to bring the dedicated coating equipment for the HCR chrome replacement cylinder process online which was completed on time.
The focus of 2018 will now shift from set up towards customer trials of HCR and from Q2/2018 a wider programme of additional end user trials and in-market evaluations of the diamond-like-carbon coating technology will commence.
Why Go Chrome Free?
The Hybrid Chrome replacement coating is a Patent Pending environmentally safe hybrid cylinder coating process with its foundations in diamond-like-carbon.
HCR is a novel technology which offers the gravure industry superior print results, lower print cost with increased cylinder longevity and in doing so removes the need for chrome plating and other electrolytic processes like copper or nickel plating. As such, the question then becomes why would you not go chrome free?
As has been discussed at a number of GAA and ERA gravure events over the last 4 years, The REACH regulation in respect of chromium compounds presents a great deal of uncertainty to the gravure cylinder and anilox roller manufacturers whom in turn supply their various markets.
Whilst temporary reprieves maybe granted for the continued use of chromium compounds, those reprieves still involve increased legislation and additional costs of compliance towards what most people accept will still be an eventual ban of chromium compounds in gravure cylinder and flexo anilox production.
Whilst Hybrid Chrome Replacement / HCR removes the headaches associated with this increasing level of compliance and its associated costs, the benefits of adopting the Roto-Hybrid Process are not just from a health, safety and environmental point of view,  as the process offers significant technical gains and efficiencies such as improved cylinder make-ready times and reduced ink consumption amongst others.
Request a Trial
Although the RotoHybrid team are currently conducting a series of technology trials with early adopters later in Q2 the technology trials programme will be extended to a wider group of parties interested in using the RotoHybrid process.
To participate in a technology trial please see www.rotohybrid.com for more details