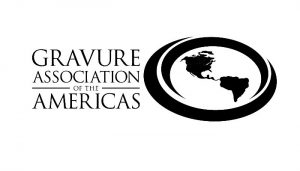 The Roto-Hybrid team gave an update on the HCR chrome replacement cylinder technology at the recent 2018 Gravure Global Summit 'Opening the Door to Opportunity' in Clearwater, Florida USA.
In addition to an update on the Hybrid Cylinder and the HCR chrome replacement cylinder coating technology, other summit speeches and presentations covered a range of topics from the use of chrome in the Americas, very much on topic given the REACH regulations on chromium iii and vi, plus an EPA Legislation Update covering all aspects of maintaining a safe gravure in the US which was rounded off by an update from George Battrick of the ERA.
Further talks were given on Managing and Exceeding Brand Owner Expectations, Ink Management, an update from the Gravure Education Foundation and the work that they do plus one on Lifting Sales with Data-Driven Packaging and the keynote from Professor Robert Eller's 3 year consultation into gravure and ' Transformative Breakthrough' in which he delivered an update on the opportunity to gain market share for Gravure and what steps may be required to realize that goal.
Professor Robert Eller poses that gravure can gain market share and close the reimaging cost gap with Flexo by commercialising the required technologies such as the resizable cylinders and chrome-less engraving from Roto-Hybrid, and establishing a robust infrastructure to support them.
Bob Eller is an Endowed Professor in the School of Media Sciences and he teaches the school's Printing Technology and Packaging Printing courses and has research interests including the Future of Gravure, Conventional and Digital Printing Technologies, Image Preference,  and Package Print-ing.  He chairs the Operations Committee for the School of Media Sciences and before coming to RIT, Bob was an ExxonMobil Executive with responsibility for creating corporate alliances and step-out new businesses in the area of Packaging.
The Gravure Association of the Americas, is a trade association formed as the result of the merger between the Packaging and Label Gravure Association Global (PLGA Global) and the Gravure Association of America (GAA with the intent to create value and opportunities through interactive communication, training, education and promotion of the Gravure printing process.